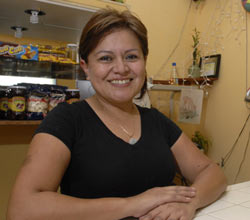 Microfinance institutions (MFIs) in the United States, such as Accion, grew from the success of microlending programs abroad, and have since been adapted to meet the unique needs of microentrepreneurs in the United States.
Like its international counterpart, domestic microfinance seeks to empower self-employed individuals with affordable and accessible business capital. While domestic and international microfinance share a common goal, domestic microlending methodology has been modified to accommodate the formal U.S. economy:
LOAN AMOUNTS
While loan amounts as small as a few hundred dollars can support a business in the developing world, larger loans are necessary in the United States to accommodate a relatively high cost of business operation. While small in comparison to the capital needs of the average U.S. business, according to the Association for Enterprise Opportunity, microloans provided in the U.S. average $7,000 and range from $500 – $35,000.
GROUP VS. INDIVIDUAL LENDING
Group lending has proven effective in ensuring high repayment rates for MFIs abroad by providing peer support and a form of loan collateral. U.S. MFIs , on the other hand, have adapted an individual lending model to ready borrowers for the financial mainstream, where borrowing as a group is not acceptable.
Accion, like many domestic MFIs, uses traditional collateralization methods, such as requesting a cosigner on the loan, or asking the borrower to offer loan collateral, such as a vehicle or piece of equipment.
SUSTAINABILITY
Many MFIs operating in the developing world become self-sustaining, and even profitable, organizations. This is largely due to low operating costs and the ability to charge interest rates that fully compensate for risk and the cost of processing the loan. It is not uncommon for interest rates for microloans made in the developing world to reach 100 percent annually.
However, MFIs in the U.S. are subject to high operating costs, and organizational missions limit the interest rates that U.S. MFI's are willing to charge.  Domestic MFIs typically charge interest rates that are a few points above prime (Accion East and Online's rates range from 8 to 15 percent) and use a mix of government, foundation, and private donations to cover operating costs.
CREDIT BUILDING & FINANCIAL EDUCATION
In the United States, even the simplest financial transitions, such as renting an apartment or obtaining a cell phone, are limited by a lack of credit history. Therefore, U.S. microfinance programs often focus on helping a borrower build good credit by providing education on credit and financial management skills.
To help borrowers build formal credit, Accion reports repayment history to all three credit bureaus-Experian, Equifax, and TransUnion.  In addition, one-on-one credit training during the loan process, online resources, and group workshops reinforce credit-building skills.